BEETHOVEN'S NIGHTMARE LIVE AT THE EL REY
(2007)
"... awed by their show ..."
"... loved to watch Max ... as he blended in with the beat ... creating his stories in action."
"CJ Jones ... was so funny!"
"It was so nice ... that there was a true diversity in the show."
"... it was indeed a truly Deaf concert experience!"
"I was floored ... watching their show."
"... you gotta watch Beethoven's Nightmare!"
"... living proof that being Deaf doesn't mean you can't play or enjoy music."
- Deaf Progressivism
"... a fabulous concert ..."
"... I enjoyed the entire experience of music, mime, ASL, dance, and song."
— Concertgoer Andrea
"... Beethoven's Nightmare RULES!!"
— Concertgoer Stacey
"... extraordinary and exhilarating."
"... the BEST concert I have ever seen."
"... your legend will be carried ... forever from generation to generation because it is the only deaf band in the world."
"Your band makes an indelible impression on others."
— Concertgoer Rey (Deaf Cuban)
"GREAT JOB!!!"
"Enjoyed every beat!!"
"... there was a (deaf-blind) guy in your audience ... dancing, raising his hands and clapping for you guys through the whole concert ... smiling ear to ear."
"... it was special that you guys ... love your fans the way you do."
— Concertgoer Helen
BEETHOVEN'S NIGHTMARE LIVE AT THE EL REY was presented by Glad and SPRINt RELAY at THE el rey theatre, los angeles, october 6, 2007.
SHOW CONCEPT AND DIRECTION BY BOB HILTERMANN; costumes by TL FoRSBERG; lighting by ANDY FIGueroa; CONCERT sound by THE EL REY THEATRE; CHOREOGRAPHY BY RITA COREY; produced by bob hiltermann, john drouillard, and natalie drouillard; concert stage manager was christopher beyries.
BEETHOVEN'S NIGHTMARE ARE:
ED CHEVY • BASS | VOCALS
BOB HILTERMANN • DRUMS | vocals
STEVE LONGO • GUITAR
WITH:
TRACY LONGO • GUITAR
DURAND BAKER • PERCUSSION
AND SPECIAL GUESTS:
CJ JONES • MASTER OF CEREMONIES
TL FORSBERG • ROCK ARTIST
MAX FOMITCHEV • MIME
LISA HERMATZ • ASL PERFORMER
DEANNE BRAY • ASL PERFORMER
KOYLEE RAMOS • ASL PERFORMER
LEA RAMOS • ASL PERFORMER
RITA COREY • ASL PERFORMER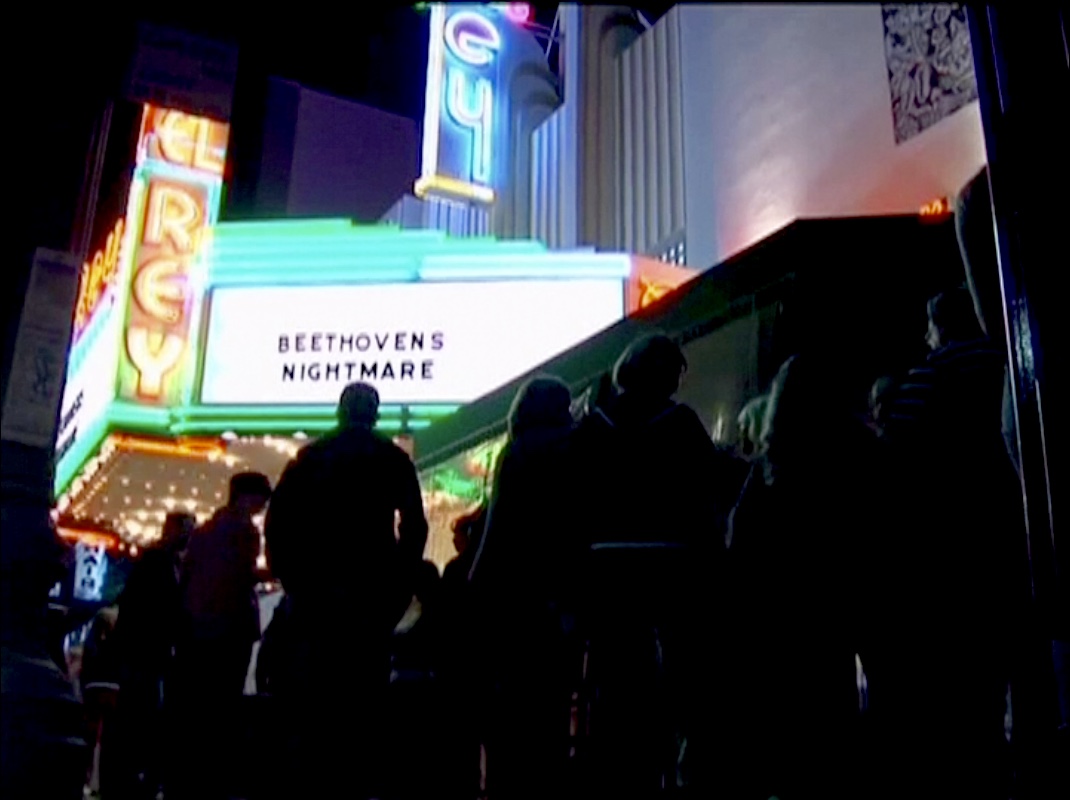 ABOUT BEETHOVEN'S NIGHTMARE LIVE AT THE EL REY
With a host of special guests, the seminal all-deaf rock band Beethoven's Nightmare performs their biggest concert event ever at Hollywood's historic El Rey Theatre, the performance filmed and featured in the award-winning feature documentary See What I'm Saying.
AFTERTHOUGHTS
Being the father of a deaf son and having been a part of the Los Angeles deaf community since the 90s, it was an honor and a half to be a part of this experience.
Bob Hiltermann and I had met each other via the legendary co-founders of Deaf West Theatre in Los Angeles, Ed Waterstreet and Linda Bove, when I was brought in by them to initiate work on what would become their first hit musical, Oliver! Though I didn't remain on that project, Bob and I kept in touch and reconnected again around a Beethoven's Nightmare record release party a few years later, which ultimately led to my being asked to work with him to co-produce a mad scheme that Bob had of Beethoven's Nightmare playing a mainstream event in the heart of Hollywood.
As the drummer of the band, Bob was going to need to focus on just being the drummer after a certain point, once local rehearsals really got going, so, along with my own partner in crime, Natalie Drouillard, I jumped into the production early on to help make sure everything went down smoothly and that Bob could put his focus where he needed to when he needed to.
It was a huge operation with many moving parts, but the rehearsals were a blast and we were able to maneuver through any obstacles that came our way and, on October 6, 2007, we had the most pleasant surprise of our lives.
Though the advance sales had been underperforming, which had been causing some nerves in the production, that Saturday night, we had a line of new ticket buyers trailing down Wilshire Blvd. and we managed to fill the El Rey with a total mix of deaf and hearing concertgoers, an explosion of cultures, ages, and sensibilities.
Beethoven's Nightmare Live At The El Rey was a major success, the vibrations of that night in Hollywood still resonating out in every direction as the band continues to take their unique brand of rock and roll to their dedicated fans around the world.